(better) Solutions with Smart Stamp®
The idea: develop a system to prove to election authority and mailers that the postal mail—combined with Microsoft Tag and RFID chip code—can create a new way to improve voting processes in America.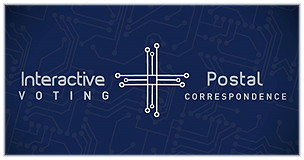 Mobile devices and the Internet have played a role in every aspect of the connected digital environment—except voting. We can now change that with the power of VotertagsSM using Smart Stamp technology applied to postal mail.
"We're not just talking about official political elections, but being able to instantly vote on any cause or action," stated Elliot Klein. Voting is the starting point – with many other applications to follow shortly that will save advertisers and mailers money for non-voting applications.
Potential possibilities include:
Mailers save money by sending postcards (with integrated reply form) in place of pricey postal envelopes
Content is updateable in real-time after mailing to adjust campaign effectiveness
Content access permissions can be controlled to limited time offers or updated after mailing
Communication enhanced by linking to rich-media messaging content
Measurable results with tag read tracking date/time of mail content "open" with API
Entirely new forms of loyalty programs (with RFID/NFC payments or voucher) can be securely mailed
ECOPOST™ Online Services
Smart Stamp features include ECOPOST™ services that add access to RFID, visual codes and barcodes that can be computer-read by PC or mobile devices. These new online-based services—accessed via a network reference—are available today as part of Smart Stamp interactive advertising and correspondence solutions. The new ECOPOST service creates a new access platform for the next digital frontier of interactive correspondence services.